48. How a Dedicated iPhone App Can Help Your Business
Posted:

September 10, 2012
When I think back to my childhood years and the ways, in which our family communicated with relatives in Australia, it conjures memories of listening to what I now know was a cassette tape recording of my cousin's voices with carefully planned gaps which me the illusion I was actually talking to them in real time.
The world seemed to me then to be a much larger place that it does now. Since the conception of the World Wide Web my ability to communicate with distant relatives or work colleagues is instant without the need for elaborately planned charades and not only this but I can conduct many of my necessary day to day tasks both in business and pleasure not only by way of my computer but also whilst "on the go" with my trusty iPhone through the many applications from varying businesses and organisations.
I feel as though I am literally holding access to the world in the palm of my hand and for many businesses this is a vital tool with which to bring their services and products to fingertips of existing and potentially new clients from across the globe.
So why will an iPhone app help your business?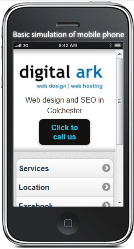 The iPhone is undoubtedly the most popular smart phone in today's market of mobile technology. Its many features have afforded all of its user's ease of use and many will upgrade the moment a new model is released. As the iPhone can be connected to third party devices by way of the doc connector facility many businesses have been given the freedom to develop and implement their own iPhone application which becomes a marketing strategy which will help increase awareness of their company globally in the market they are involved in.
Once developed, iPhone applications are submitted to iTunes where they are then marketed for people to download to their iPhone. iTunes offer an application developing service however; since the use of such applications through iPhones has become an increasingly more popular way for people to access their many needs both professionally and personally, there has been a sudden increase in companies offering iPhone application development services.
As with a website it is vital to ensure that the application you create is easy to use. Think about the products and services that your company has to offer its clients and ensure you can fashion an application that will get both regular and potential customers actively involved with your business. Your business will always be with them either in a bag, briefcase or even in a back pocket (pretty much every place we choose to leave our mobile phone).
How will you be able to measure the success of your iPhone application? Simply by increased profit margins. Before engaging in the process of producing an iPhone application it would be prudent to peruse the catalogue of applications that may already available to consumers by your competitors and draw from these ideas which will ensure that whilst it may take a while for your own application to receive interest it will offer something unique which will soon see increased traffic to your business ideas, innovations, products and services.